Hannah Tan VS Angelina Jolie
Read here for the rules.
Hannah Tan
:-
Hannah Sarah Tan became famous when she represented Malaysia in the 2002
Miss Global Petite World Finals
and achieved 2nd runner up in the event. Her rising popularity was more evident as she appeared alongside Hong Kong star Karen Mok in one of
Lux
TV commercials, as well as print ads for
Pantene
,
Vanessa Diamonds
and
Versace Makeup
(
Asian Sex Gazette

, 2005
)
With her mixed Chinese-Kelabit feature and her hazel coloured eyes, she was discovered by talent scouts to sign up for
Miss Malaysia Petite
competition when she was just 21. Soon after the competition (and winning the title), Hannah was offered to model for magazines, TV ads and such.
Modelling though is not all she does. She is the host for
Ringgit Sense
(TV3),
Girls' Club
and
Looking Good Feeling Good
as well as a guest artist in
Sketches
(NTV7), and she has been the MC for numerous events (
read her resume here
). She's no blonde either, as she a graduate in computer science at the University of Lincolnshire, a holder of two music diplomas and a financial consultant. Oh, she's also working on her debut solo album (apparently the music is alternative contemporary with a bit of fusion jazz) to be released sometime this year.
Whoa. Now she even plans to take up acting. Nothing seems to be stopping this 24-year-old from Penang's dreams! Oh, she's born on 25th October 1981, making her a Scorpio :)
She is pretty after all, but I feel that she's not quite photogenic after looking at several of her photos. Nonetheless, she has the looks and the curves…and at 5' 4" she is certainly a petite.
Can Hannah make herself looking better and feeling better than….
Angelina Jolie
:-
Angelina Jolie is the daughter of famous actor Jon Voight, and much like her father, she is a famous actress herself. Raised mostly by her mother after her parents' divorced while she was still a baby, she started off as a professional model. It wasn't long before she settled in New York as a student at the Lee Strasberg Theatre Institute and New York University, where she first started acting in theatre productions (
Angelina Jolie Fanlisting
,
2006
).
She the moved to film acting, starting with 1993's
Cyborg 2
, followed by 1995's
Hackers
. She made it big though with her Golden Globe-winning performance as Cornelia Wallace in 1997's TV movie
George Wallace
. The role, along with her Emmy-nominated acting in HBO's
Gia
brought her to new heights in recognition. Her rapid career continues, netting roles in
Playing by Heart
(1998) and
Pushing Tin
(1999).
It was the 30-year-old's role as Lisa Rowe, the mental patient in
Girl, Interrupted
(1999) that won her an Academy Award for
Best Supporting Actress
and cemented her reputation as a top actress.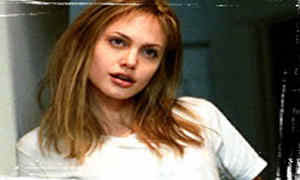 In addition to her stunning performance in
Gone in Sixty Seconds
(2000), her exotic looks was a perfect match for her role as Lara Croft in
Tomb Raider
(2001), based on the video game where the heroin looks very much like Jolie herself. She followed up the same role in the sequel
Lara Croft Tomb Raider: Cradle of Life
(2003).
She continues to feature in movies like
Alexander
(2004),
Mr. and Mrs. Smith
(2005) and most recently
The Good Shepherd
(2006).
She, like most Hollywood celebrities, has a complicated love life and the press that continues to write stories and rumours about her in both positive and negative.
She is born on the 4th June 1975, a Gemini and is 5' 7".
Love her lips, love her legs, and love her curves. :) She's definitely one of the top Hollywood celebrities that I like.
Can Jolie take up her role as Mrs. Smith and blast her opponent away?
---
Let's see who's gone in sixty seconds:
Hannah Tan
:
The photographer decides to play it safe with a standard black background, which would completely focus on Hannah herself. Nice curly hair, but why the standard clothes? With that jeans she should have wore a cowboy hat to at least have a theme to the photo. Even with her nice pose the push-up bra she is wearing underneath her top, it doesn't do much to the average photo. The photo has good lighting, which does make Hannah look elegant, but this is pretty mediocre overall.
Photo Style: 5/10
Looks & Pose: 5/10
Angelina Jolie
:
Pool/ocean background plus Angelina's wet and looking at you like she wants you…that equals to sexiness! Depending on yourself, you'll either look at her beautiful eyes and lips or her Lara Croft-like breasts. For me, I looked at her stunning facial looks first (serious!). A well-taken photo nonetheless.
Photo Style: 7/10
Looks & Pose: 8/10
Overall
:-
Angelina simply outruns Hannah 15/20 to 10/20. It must be the lips of Jolie that gave her the better edge over Hannah. Then again, Hannah did not look her best in this one.
References:-
Asian Sex Gazette (
http://www.asiansexgazette.com/asg/southeast_asia/southeast06news97.htm
)
Belindac's Xanga Site (
http://www.xanga.com/belindac
)
Hannah Sarah Tan Official Website (
http://www.hannahsarahtan.com/profile.asp
)
The Angelina Jolie Fanlisting (
http://angelinafans.com/?bio
)
The Talent Factory (
http://www.talentfactory.com.my/hannah.html
)
Various websites under Google search for Angelina Jolie's pictures.