Nine days ago,
Celeste
came down to Kuching to write about the local delicacies of the city. Wanting to impress my Penangite friend (and wishing to become the #1 illegal tourist guide in Kuching someday), I brought her together with her colleagues to taste the wonderful Sarawak Laksa, Kolok Mee and Belacan Mee Hoon. Not to forget the Sarawak Layered Cake as well, which a friend of theirs brought them to.
While they seem to be delighted with the aforementioned dishes, my friend was asking for Iban delicacies, particularly Pansoh Manok (Chicken in Bamboo). As a Sarawakian I am shameful to say that I NEVER had Iban food in my whole life. Oh, the disaster!
As it was during the Raya period, it was difficult to find a proper Iban restaurant. The ones that were recommended by the Sarawak Tourism Board wasn't open. Just as I was about to disappoint Celeste and her mates by telling her the bad news, I discovered this restaurant.
Sure, it was a pub rather than a restaurant, but Ruai Bar (located at Jalan Green Hill) do serve Iban food. You should see my face when the owner said "Yes, we do serve Pansoh Manok!".
So we sat down and I told the waiter to feed us with Pansoh Manok, Midin Belacan (Forest Fern with Shrimp Paste) and other meals that screamed Iban-ish.
The waiter could only smile and said something like "lat ah long" and "asam punjabi". I had no idea what the heck he was saying but I said OK to it.
What turned out was a big surprise. A big, big surprise.
The first dish of course was the Pansoh Manok and the Midin Belacan.
After all the day's hype on the Chicken in Bamboo, I was sadly let down by the taste of it. While the taste of the bamboo was there, it was too mild for me and the chicken tasted too plain for my liking. The midin belacan was not bad though; crunchy and slightly spicy, just the way I like it.
The talking moment though was this:
"Er...what the fuck is that?..."
WAIT A MINUTE!

THAT'S SAGO WORMS!
Then it hit me. What the waiter meant was not "lat ah long" but "ULAT MULONG".
My initial thoughts were simply "finally, I'm doing a Fear Factor". Then almost immediately, I had to have a look on Celeste's face.
Oh it was a classic! If you could imagine the look of fear, anxiety, disgust and trauma all rolled into one then that was how she looked...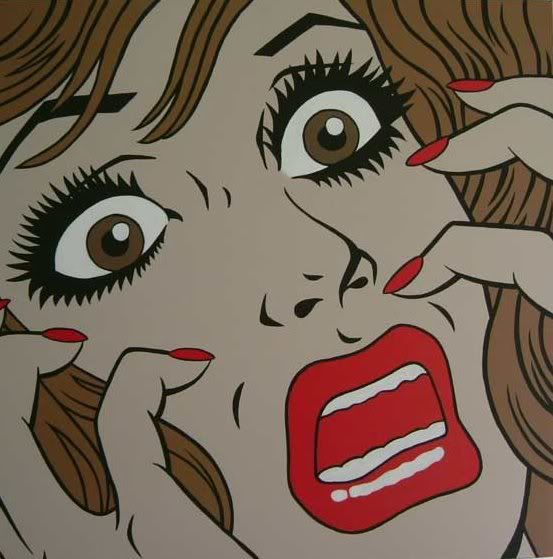 Yeap, just like that.
According to the owner, these sago grubs "taste like chicken". I could believe it seeing the way it was cooked; I mean, you can't go wrong with stir-fried
cute-little-thing
with dried chilies, onions, garlic and ginger yea?
So I had a go at it:
On my initial bite, I tasted the juicy insides of the grub, together the crunchy head. I was definitely not accustomed to the initial taste, but the aftertaste definitely has that chicken flavour to this extraordinary meat!
It took me three sago worms to get used to the taste, and I had five altogether. Not bad for a starter. And as for Celeste, she took all her courage and had one piece of grub while her colleagues chickened, or rather, wormed out.
I'm proud of you girl! If not how la you are going to be a food critic? :)
Anyway, there was another dish called "kasam ensabi" (Local Preserved Spinach) rather that I thought was "Asam Punjabi". I like that salty taste of the vegetable, but at that time we were still bemused over the Ulat Mulong that I've completely forgotten to take a photo of the kasam ensabi.
In the end, it was quite an pleasure for us to experience the forest food Iban people take for generations. It was a pity that they didn't have Tuak (rice wine) to go along with the unique taste of the sago worms.
I can't wait to bring the next victim, er, tourist to taste this very special dish!
"Oh I'm so cute, look at my fine hair around my ass!"
You may also read Celeste's review on Ulat Mulong from the upcoming issue of
Virtual Malaysia
.